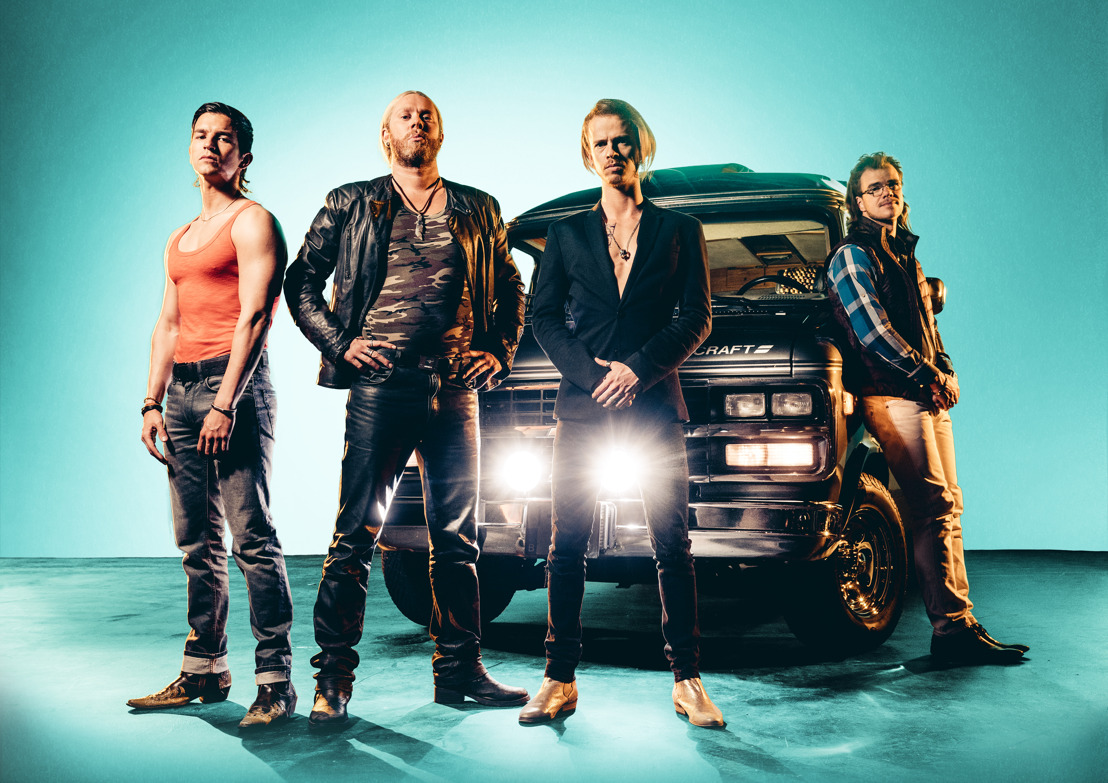 Callboys genomineerd voor Emmy Award.
Regisseur en maker Jan Eelen: "Dit voelt onwerkelijk".
Woensdag 27 september 2017 — Jan Eelen en zijn Callboys mogen hun tuxedo's uit de kast halen, want zij worden in november verwacht op de International Emmy Awards in New York.
Callboys, een fictiereeks van FBO en Woestijnvis voor zender VIER, sleepte een nominatie in de wacht in de categorie Comedy. Dat maakte de internationale academie vandaag bekend voor de rest van de wereld. In totaal komen 44 genomineerden in 11 categorieën en uit 18 verschillende landen samen op 20 november in het Hilton in NewYork waar de winnaars bekend zullen worden gemaakt.
Regisseur en bedenker Jan Eelen: "Ja, dit is wel heel fijn. Door de nominatie zelf uiteraard, maar eigenlijk nog meer doordat we samen met Alan Partridge's Scissored Isle geselecteerd zijn in de categorie Comedy. Steve Coogan, de Britse acteur en comedian die Alan Partridge speelt en schrijft, is al heel lang een enorm inspirerend voorbeeld voor mij. Ik ontdekte hem toen ik nog aan het Ritcs studeerde met zijn fictieve talkshow Knowing me, Knowing You (1994) en de man is sindsdien geniale dingen blijven maken. Ik volg hem in alles wat hij doet en nu mogen wij plots met hem een Emmy-nominatie delen. Dat voelt onwerkelijk. "
BRON: INTERNATIONAL ACADEMY OF TELEVISION ARTS & SCIENCES
2017 INTERNATIONAL EMMY® AWARDS NOMINEES SPAN 18 COUNTRIES ACROSS 11 CATEGORIES
New York, September 27, 2017 - Nominations for the 2017 International Emmy® Awards were announced today by the International Academy of Television Arts & Sciences. There are 44 Nominees across 11 categories and 18 countries. The full list of Nominees follows this release. Winners will be announced at a black-tie Ceremony on November 20, 2017 at the Hilton New York Hotel.
Nominees come from: Argentina, Australia, Belgium, Brazil, Canada, Colombia, France, Germany, Japan, Mexico, the Netherlands, Norway, Philippines, South Africa, Thailand, Turkey, the United Kingdom, and the United States
"Every year, the world's television community competes to be recognized on the International Emmys global stage," said Bruce L. Paisner, President and CEO of the International Academy of Television Arts & Sciences. "We congratulate the Nominees for their outstanding achievements and for inspiring audiences worldwide with their creativity and talent."
In addition to the presentation of the International Emmy® Awards for programming and performances, the Academy will present two special awards to two-time Academy Award winning actor and producer, Kevin Spacey and Emilio Azcárraga Jean, Chairman of the Board, President and CEO of Grupo Televisa, the world's largest Spanish-language content provider and Mexico's largest broadcaster and pay television provider.
This year's Gala partners are: Phoenix Satellite Television, TV Globo, RT America, Ernst & Young, Deluxe, Miptv, Sofitel Hotels, and Variety.
2017 Semi-Final Judging Hosts were: 41 Entertainment, Allen Bohbot (Los Angeles, USA); Aetios Productions, Fabienne Larouche & Michel Trudeau (Montreal, Canada); Armoza Formats, Avi Armoza (Tel Aviv, Israel); Broadview TV, Leopold Hoesch (Cologne, Germany); CBI Media, Leon Xiao (Tianjin, China); C-TV Splendid Media Group, Cheng Xiong (Beijing, China); Cisneros Media, Jonathan Blum (Miami, USA); Cyber Group Studios, Pierre Sissmann (Paris, France); Discovery Networks Latin America, Michela Giorelli (Mexico City, Mexico); DR TV, Piv Bernth (Copenhagen, Denmark); Eurovision Americas, Bill Dunlop (Washington D.C., USA); Festcom, Gai Dunlop (Melbourne, Australia); FFP New Media, Michael Smeaton (Berlin, Germany); Fox Networks Group Latin America, Edgar Spielmann & Gonzalo Fiure (Buenos Aires, Argentina); Fuji TV, Mamiko Maekawa (Tokyo, Japan); Globo TV, Carlos Schroder (Rio de Janeiro, Brazil & New York, USA); Graf Filmproduktion, Klaus Graf (Berlin, Germany); HBO Latin America Group, Emilio Rubio (Miami, USA); MTVA - Hungarian Public Service Media, Balázs Medveczky (Budapest, Hungary); NFVF, Zama Mkosi (Johannesburg, South Africa); ORF Enterprise, Beatrice Cox-Riesenfelder (Vienna, Austria); Pinewood Television, Christian Wikander (London, UK); Pyramedia, Nashwa Al Ruwaini (Abu Dhabi, UAE); Rai, Eleonora Andreatta (Rome, Italy); RT, Irakly Gachechiladze (Moscow, Russia); Shanghai Croton Culture Media, Benjamin Li (Shanghai, China); Sonae FS, André Sampaio (Lisbon, Portugal); Sony Pictures Entertainment, Alexander Marin (Mexico City, Mexico); TV Azteca, Fidela Navarro (Mexico City, Mexico); TV France International, Hervé Michel & Mathieu Béjot (Biarritz, France); WOWOW, Nobuya Wazaki (Tokyo, Japan); Ziegler Film, Regina & Tanja Ziegler (Berlin, Germany).
2017 International Emmy® Awards Nominees
Arts Programming
Hip-Hop Evolution - The Foundation
Banger Films
Canada
Never-Ending Man: Hayao Miyazaki
NHK
Japan
Portátil
Porta Dos Fundos
Brazil
Robin de Puy - Ik ben het allemaal zelf
(Robin's Road Trip)
Talent United / AVROTROS / CoBO
Netherlands
Best Performance by an Actor
Julio Andrade in Um Contra Todos (One Against All)
Fox Networks Groups Brazil / Conspiração Filmes
Brazil
Kenneth Branagh in Wallander
Left Bank Pictures / Yellow Bird / BBC / TKBC
United Kingdom
Zanjoe Marudo in Maalaala Mo Kaya (Remembering)
ABS-CBN Corporation
Philippines
Kad Merad in Baron Noir
Kwaï / Canal+ Creation originale / Pictanovo
France
Best Performance by an Actress
Adriana Esteves in Justiça (Above Justice)
TV Globo
Brazil
Anna Friel in Marcella
Buccaneer Media / Netflix
United Kingdom
Sonja Gerhardt in Ku'damm 56
(Ku'damm 56 - Rebel With a Cause)
UFA Fiction GmbH / ZDF German Television
Germany
Thuso Mbedu in Is'thunzi
Mzansi Magic / Rapid Blue
South Africa
Comedy
Alan Partridge's Scissored Isle
Baby Cow Productions
United Kingdom
Callboys
Woestijnvis / FBO
Belgium
Rakugo The Movie
East Entertainment, Inc. / NHK
Japan
Tá No Ar: a TV na TV
(On Air: TV on TV)
TV Globo
Brazil
Documentary
EXODUS: Our Journey to Europe
KEO Films / BBC 2
United Kingdom
The Phone of the Wind: Whispers to Lost Families
NHK
Japan
Le Studio de la Terreur
(Terror Studios)
Capa Presse / CANAL+ / Creative Europe /
Region Ile-de-France
France
Tempestad
Pimienta Films / Cactus Films / Terminal Films
Mexico
Drama Series
Justiça
(Above Justice)
TV Globo
Brazil
Mammon II
NRK Drama / SVT / DR / YLE FEM /
Nordvision Fund
Norway
Moribito: Guardian of the Spirit
NHK
Japan
Wanted
Matchbox Pictures (NBCUniversal)
Australia
Non-English U.S. Primetime Program
Hasta Que Te Conocí
(Until I Met You)
Disney Media Distribution / Somos Producciones / IGSFA Management LLC / BTF Media
United States of America
La Voz Kids
Talpa Holding / Talpa B.V. / Talpa Media USA Inc. / Red Orange Productions LLC. / Telemundo / NBC Universal Television Group / Warner Horizon / Warner Bros. Entertainment Inc.
United States of America
Odisea de los Niños Migrantes
(South to North: Migrant Children)
NatGeo Mundo / Fox Networks Group Latin America / National Geographic Channel Latin America / Anima Films
United States of America
Sr. Ávila
HBO Latin America / Lemon Films
United States of America
Non-Scripted Entertainment
Escuela para Maridos Colombia
Fox Network Groups Latin America /
Fox Telecolombia
Colombia
Fan Pan Tae Super Fan
Thai Broadcasting Company Limited /
Workpoint Entertainment Public Company Limited
Thailand
Sorry Voor Alles
(Sorry About That)
VRT / Warner Bros International Television Production België
Belgium
Taskmaster
Avalon Television
United Kingdom
Short-Form Series
Ahi Afuera
Studio + / Iconoclast
Argentina
The Amazing Gayl Pile
LaRue Entertainment
Canada
Crime Time
Studio + / John Doe Productions / 22H22
Brazil
Familie Braun
(The Braun Family)
Polyphon / ZDF German Television
Germany
Telenovela
30 Vies - Isabelle Cousineau
Aetios Productions Inc.
Canada
Kara Sevda
(Endless Love)
Ay Yapım
Turkey
Totalmente Demais
(Total Dreamer)
TV Globo
Brazil
Velho Chico
(Old River)
TV Globo
Brazil
TV Movie/Mini-Series
Alemão
(Alemão : Both Sides of the Operation)
TV Globo
Brazil
Ne m'abandonne pas
(Don't Leave Me)
Scarlett Production / France Télévisions
France
Reg
LA Productions Ltd / BBC
United Kingdom
Tokyo Trial
Don Carmody Television Inc. / NHK / FATT Productions B.V.
Japan
About The International Academy of Television Arts & Sciences
The International Academy of Television Arts & Sciences is a membership based organization comprised of leading media and entertainment figures from over 60 countries and 500 companies from all sectors of television including internet, mobile and technology. The Academy's yearly schedule of events includes the prestigious International Emmy® Awards held in New York, The International Emmy® Kids Awards at MIPTV and a series of industry events such as Academy Day, The International Emmy® World Television Festival and Panels on substantive industry topics. The International Academy of Television Arts & Sciences recognizes excellence in television produced outside of the United States, as well as US Primetime programs produced in languages other than English, with the prestigious Emmy® Award. Currently celebrating programming across varied areas including: Arts Programming, Current Affairs, Comedy, Documentary, Drama Series, News, Non-Scripted Entertainment, Short-Form Series, Telenovela, and TV Movie/Mini-Series, it also recognizes excellence in Performances, Kids programming and Digital. For more information, go to www.iemmys.tv
MEDIA CONTACTS
The International Academy of Television Arts & Sciences
Eva Obadia, Senior Director, Communications & Partnerships
Tel: 212-489-6969
eva.obadia@iemmys.tv
The Lippin Group
Matt Biscuiti
Tel: +1-212-986-7080
matt@lippingroup.com